Launched in October of 2019, Every Bottle Back is an integrated and comprehensive initiative by The Coca-Cola Company, Keurig Dr Pepper and PepsiCo to reduce the industry's use of new plastic by making investments to improve the collection of the industry's plastic bottles.
In partnership with the preeminent environmental and sustainability leaders –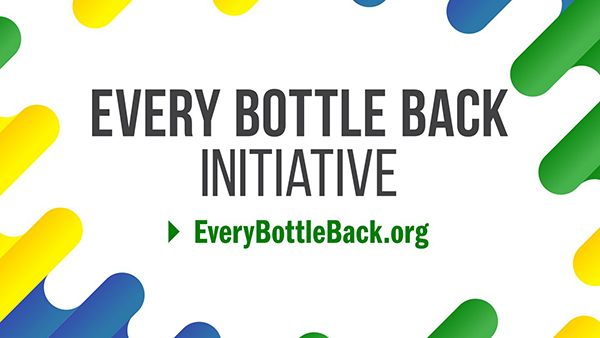 World Wildlife Fund, The Recycling Partnership and Closed Loop Partners – we are coming together to support a more circular system for our bottles and reinforce to consumers the value of our 100% recyclable plastic bottles and caps. Our bottles are made to be remade and it's our mission to ensure they don't end up as waste in landfills or waterways.
Under Every Bottle Back, we are doubling down on the beverage industry's long-standing commitments to sustainability and directing the equivalent of $400 million to The Recycling Partnership and Closed Loop Fund. A new $100 million industry fund will be matched three-to-one by grants and investors. These investments will help to deploy new technology, and expand consumer outreach programs designed to ramp up the collection of plastic bottles, improve community recycling systems, and reduce the need for new plastic by beverage makers.
Consumers play an important role, but we will make it easier. That includes the voluntarily placement of uniform labels on packages to inform consumers that our plastic bottles are 100% recyclable, and when we get them back, they can be remade into new bottles.
Every Bottle Back will also enable recycling centers to more efficiently sort and process the valuable plastic in our bottles so they can be remade again and again. It will initially serve 23 million families across the country. 
Ultimately, this initiative is an important step towards the creation of a truly circular economy, making sure valuable PET bottles end up where they belong – back on the shelf. But it also will provide a roadmap for sustainability efforts nationwide.
Our hope is that the Every Bottle Back initiative, through the programs, educational tools and services it supports, will inspire other industries to partner with local communities to reduce their own plastic footprint. A more sustainable future is within reach.