TOGETHER, WE'RE COMMITTED TO GETTING EVERY BOTTLE BACK
Our plastic bottles are made to be remade. We are carefully designing them to be 100% recyclable – even the caps. Our goal is for every bottle to become a new bottle, and not end up in oceans, rivers, beaches and landfills. And that means we are using less new plastic.
That's why America's beverage companies have launched a new initiative to get Every Bottle Back. This unprecedented commitment includes:
Working with World Wildlife Fund ReSource: Plastic to reduce our plastic footprint
Investing through The Recycling Partnership and Closed Loop Partners to modernize the recycling infrastructure in communities across the country
Increasing awareness about the value of our 100% recyclable plastic bottles
Introducing voluntary messaging on packages about our 100%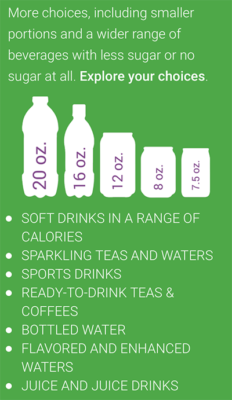 America's Beverage Companies – Coca-Cola, Dr Pepper and Pepsi – are coming together to provide choice, information, support and motivation to help consumers choose the beverage that's right for them and their families.
Working with the Alliance for a Healthier Generation, we set a bold new goal to reduce beverage calories consumer per person nationally by an additional 20% by 2025.
This Balance Calories Initiative is our voluntary, long-term commitment to creating a healthier nation by changing how Americans buy and consumer our products.
We are increasing access to beverages with less sugar, and small proportions – in stores and restaurants – down the street and across the country.
To make finding that balance a little easier, Coca-Cola, Dr Pepper and Pepsi are placing reminds to consumers to "Balance what you eat, drink and do" and "Calories count. Check then choose." on coolers and vending machines across the country.

We're Continuing to Lead to Help Address Obesity
Balance Calories builds upon our voluntary School Beverage Guidelines, which led to a 90% reduction in beverage calories shipped to schools, our Clear on Calories front-of-pack calorie labeling program, our Calories Count™ beverage vending program and ongoing Innovation to provide more choices, smaller portions and fewer calories.
We are doing the hard work to encourage real and sustainable change in communities in Wisconsin and across the country.